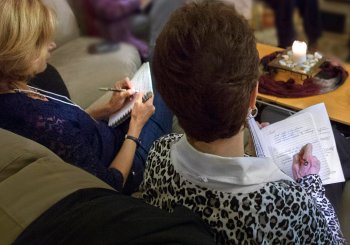 Because I believe the most important story we'lI ever hear is the one we tell ourselves, I bring people together to write, share and reframe those stories. I use the Re-Story Reflective Writing Process™ to help you explore and become aware of the detrimental stories you are telling yourself and reframe them into ones that serve you.
This writing process has provided a way for hundreds of people, just like you, to reframe the way they see themselves and create a new story.
There's an old African proverb that applies to our gatherings. "If you want to go fast, go alone. If you want to go far, go together."
In a Jeanne Guy Gathering we don't go it alone. I'll be right there with you, working on my own stuff. We'll do it together. We meet and engage in community, in a circle. The circle creates a space for you to participate in a remarkable, deep conversation. Did I mention we also have fun and laugh a lot in the process?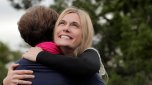 "You are one gifted, beautiful, inspiring and funny woman. You are, quite simply, a gift for anyone who is blessed enough to have you in their life. I thank my lucky stars I am one of them."
Jen Slaski
In a Re-Story Circle, you can feel respected, trusted and connected.
In a Re-Story Circle, you can feel nurtured, supported and empowered.
These Circle gatherings, whether they be in a workshop or at a retreat, rely on a social container of collective wisdom, but with the objective of inspiring individual growth through reframing of your life's story.
Reflective writing will give you the opportunity to get in touch with what you really want your life to be… explore what is holding you back and allow you to start crafting your life, via a healthier, more self-loving path.

"Standing back every now and then and evaluating where you are in life is really important," so says James Pennebaker, Regents Centennial Liberal Arts professor in the Department of Psychology at The University of Texas at Austin and author of several books, including Opening Up and Writing to Heal. He is a pioneer in the study of using expressive writing as a route to healing. "People who engage in expressive writing report feeling happier and less negative than before writing. Similarly, reports of depressive symptoms, rumination, and general anxiety tend to drop in the weeks and months after writing about emotional upheavals." (from Writing to Heal)